The Laurels of Blanchester Staff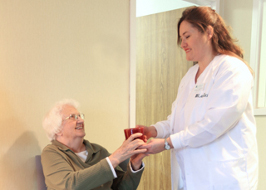 What differentiates one skilled nursing & rehabilitation center from another? The answer is... the people who work and reside there! The people set the tone, the atmosphere, and the expectations. At The Laurels of Blanchester, we take great pride in ensuring that everyone feels like part of our family, and that they are treated as special "guests" in our home.
The Laurels of Blanchester employs a team of highly qualified medical professionals, including a Medical Director, Registered Nurses, Restorative Care Nurses, a Wound Care Nurse, state tested Certified Nursing Assistants, Physical Therapists, Occupational Therapists, and a Speech Therapist. Our on-site Rehab, Dietary, Social Work, and Activities departments provide personalized and compassionate care to each guest. From the moment you walk through the front doors, the warmth and caring of the staff will begin to gain your trust and confidence, as they strive to exceed your expectations.
Unlike other facilities that use "contracted" staff members, each member of the team at The Laurels of Blanchester is directly employed, not "contracted". Each Team Member takes great pride in portraying "The Laurel Way of Caring", as they strive for excellence in providing only the highest standard of care and services to every guest, and to every family member and visitor. Come on in! Visit a while! Let us show you our very best... let us show you The Laurel Way.
Lori Byrom, LNHA, Administrator
Lori was born and raised in Highland County. She graduated from Lynchburg-Clay High school. Following High School, Lori graduated from Chatfield College in 1995, with an Associate's Degree in Business Management. She then received her Bachelor's Degree from Wilberforce University. Prior to joining The Laurels, Lori had been employed in the healthcare field as Admission Director, Marketing Director and Social Service Director. Lori began her career working for Laurel Health Care Company in 2001, as the Director of Marketing at The Laurels of Hillsboro. She then became the Assistant Administrator in 2004, and Administrator in 2005. Lori subsequently transferred to The Laurels of Blanchester in 2010. Lori is a member of the Highland District Hospital Foundation Board, Hillsboro Rotary and Kentucky Colonels.
John Noland, RN, Director of Nursing
John is a native of Wilmington, Ohio and received his Associate's Degree RN from Southern State Community College. He began his career as a Staff RN on the Surgical Pediatrics Unit for Clinton Memorial Hospital. John also has experience as a Charge Nurse, a Phlebotomist, and as an Endoscopy Technician. John left Clinton Memorial in 2009 to join Community Care Hospice as a Case Manager. He then left that position to become the Assistant Director of Nursing at The Laurels of Blanchester in April of 2010. John was promoted to his current position as the Director of Nursing in September 2010. John has been in the healthcare field since 1992.
Misty Branham, Director of Marketing
Misty Branham joined the Laurels of Blanchester in January 2018. She brings over four years of healthcare experience and over 16 years of customer service experience with her. Misty graduated from East Clinton in 1992 and recently graduated from Chatfield College with an Associate's Degree in Liberal Arts. Misty is currently attending Brescia University to obtain her Bachelor's Degree with a focus in business. Misty enjoys helping others and enjoys being part of a team that makes a difference. She looks forward to many more years with the Laurels in Blanchester.
Mandi Hill, Cota/L, Rehabilitation Services Director
Mandi Hill COTA/L, is the Rahab Services Director at the Laurels of Blanchester. Mandi came to the Laurels in November 2015 as a PRN COTA/L and began working as the Rehab Services Director in May of 2016. Mandi was born and raised in Cincinnati, Ohio. She graduated from Cincinnati State Technical and Community college in 2012, where she earned her Associates of Applied Science as and occupational therapist assistant. Mandi has worked in a SNF since graduating in 2012. Mandi finds her career very rewarding and enjoys making a difference in the lives of many of our guests as well as in the lives of their families.